Your One Stop Awnings Shop
Over 30 Years of Expertise, Give us a Call & Receive:
Good Advice
Reliable Service
Great Prices
We are a window covering company specialising in blinds, awnings and shutters. We can clean and repair all of the products we sell and many others also, so we know our products well.
We can help you select from the range of products available; we install them and later on we can service and clean and repair them.
We provide a service to real estate agents, property managers, designers and architects for the supply and installation of quality and made to a price product.
Free, no obligation, on-site measure and quote on new venetians, blinds, verticals, awnings, shutters, screens and window tinting.
Come Visit our Seven Hills showroom and see the actual window coverings.
All Clean Blind Service is an authorised Luxaflex® dealer.
Choose your style of blinds

All Clean Blinds supply external window shades including awnings in fabric and aluminium, roll up, folding arm, fixed, adjustable metal, louvred, canopy and external sun screens.
Awnings are the ideal way of reducing the heat load in a building from west facing windows or for windows with problems with direct sun or glare. They can block the sun from hitting the window in Summer but in Winter they can often be retracted to allow the sun to warm the rooms. They offer light control, privacy and style.
Sunscreens are external roller blinds that provide privacy and light control at varying levels.
AWNINGS – FABRIC & ALUMINIUM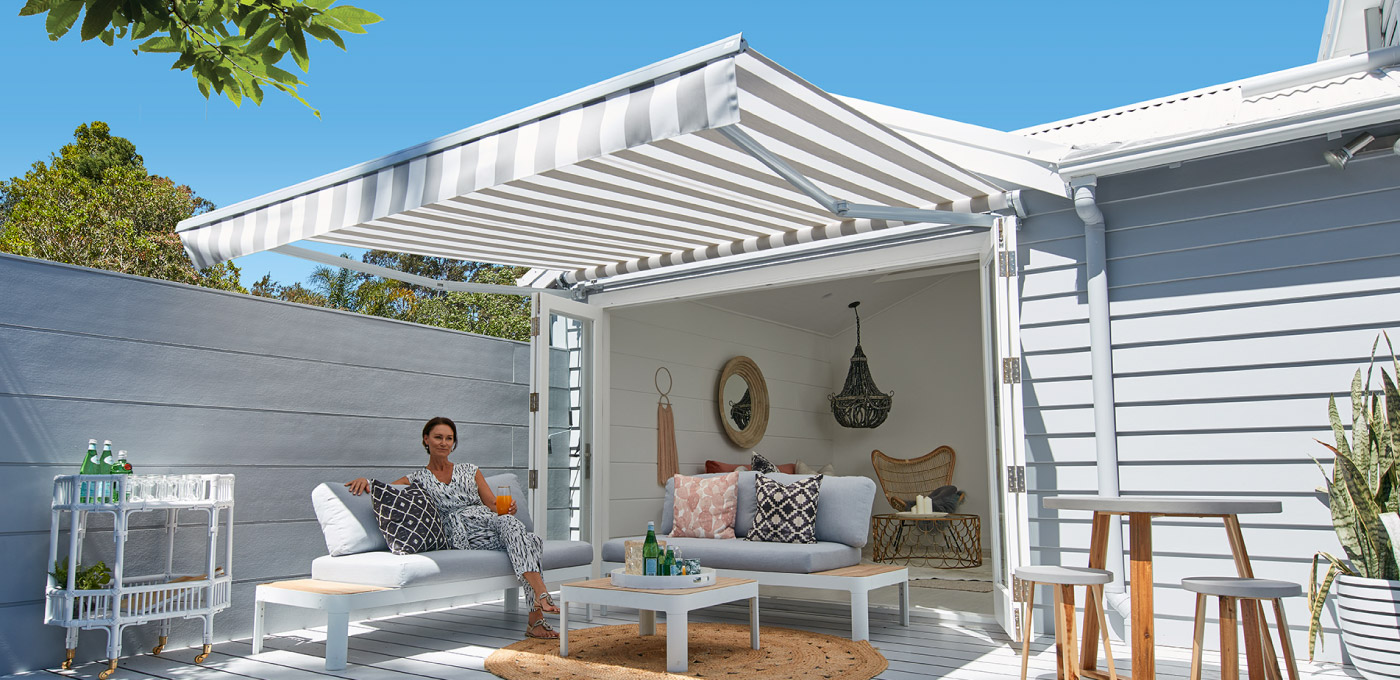 Folding Arm Awning: A retractable fabric awning which can project up to 3.6m off the wall. It can be operated by a crank handle or motorised, or combined with sensors to operate automatically.


Locking Arm Awning: For narrow spaces on the ground floor or balconies, they slide up and down on fixed guide rails, the base being a fixed distance from the wall, operated by hand or with a pull stick.


Straight Drop Awning: Similar to an external roller blind.


System 2000 Awning: A range of locking arm awnings for narrow spaces, can be co-ordinated with the pivot arm style on upper level windows. Available in fabric or aluminium with either rope, tape, automatic or crank handle operation.


Fabric Canopy Awning: Provides a canopy over doors, windows or walkways, they can be either fixed or retractable.


Aluminium Fixed Awning: Placed as a canopy at the top of windows or doors, reflects up to 90% of heat providing protection from overhead sun and heat.


Rollup Awning: Available in fabric or aluminium. Operates on guide bars, easily hand operated, useful for sun protection on patios and balconies


Aluminium Louvre Awnings: Adjustable louvres give maximum light, heat and airflow control, available with internal or external controls.
Sliding Arm Option: Available on some awnings – extends the projection of the awning and provides additional shade
Fabric & Colour Range: Available in a wide range of canvas, acrylic, PVC colours and patterns.
Size Range: Varies with product but generally Min width – 500mm, Max width – 5000mm, Max drop – 4200mm

ROLLER BLINDS – EXTERNAL SUNSCREENS – SMARTSCREEN®
External sunscreens don't obstruct the view, yet provide glare reduction and UV protection, reducing energy costs and providing daytime privacy.
Sunscreen fabrics are also available as Roman Blinds, Roller Blinds, Vertical Blinds and Panel Glides.
Price Range: High
Fabric & Colour Range: Water, mould and fungus resistant fabric in an extensive selection of PVC coated poylester fabrics
Operating System: A range of operating systems with colour co-ordinated, corrosion resistant, aluminium head boxes
BLACKOUT CHANNEL GUIDE – This range blocks out up to 90% of light when mounted internally and is ideal for media rooms. There are guiding channels on either side of the blind which means no gaps for light entry on the side of blinds.
STANDARD CHANNEL GUIDE – Small gaps between the window and screen allow heat to escape but some direct light is allowed in. Side channels are mounted on the wall or window frame. This range is suitable for external applications only.
CABLE GUIDE – No side mounting – the sunscreen is kept in place with stainless steel cable guides, allowing the screen to be fitted over doors and directly over glass.
Size Range: Min width – 400mm, Max width – 3000mm, Max drop – 3500mm
Insulation: Good, the open weave fabric reflects up to 69% of the sun's heat – stops sun from heating windows, reducing the heat in your home by 5-15°C
Room Darkening: Poor in sunscreen fabrics, but can be combined with internal roller blinds to give nighttime privacy, Excellent in block out fabrics with side channel guides.
Light control/ filtering: Excellent
Privacy: Good during the da
READY TO BOOK Call us on 02 9674 6599