Luminette Privacy Sheers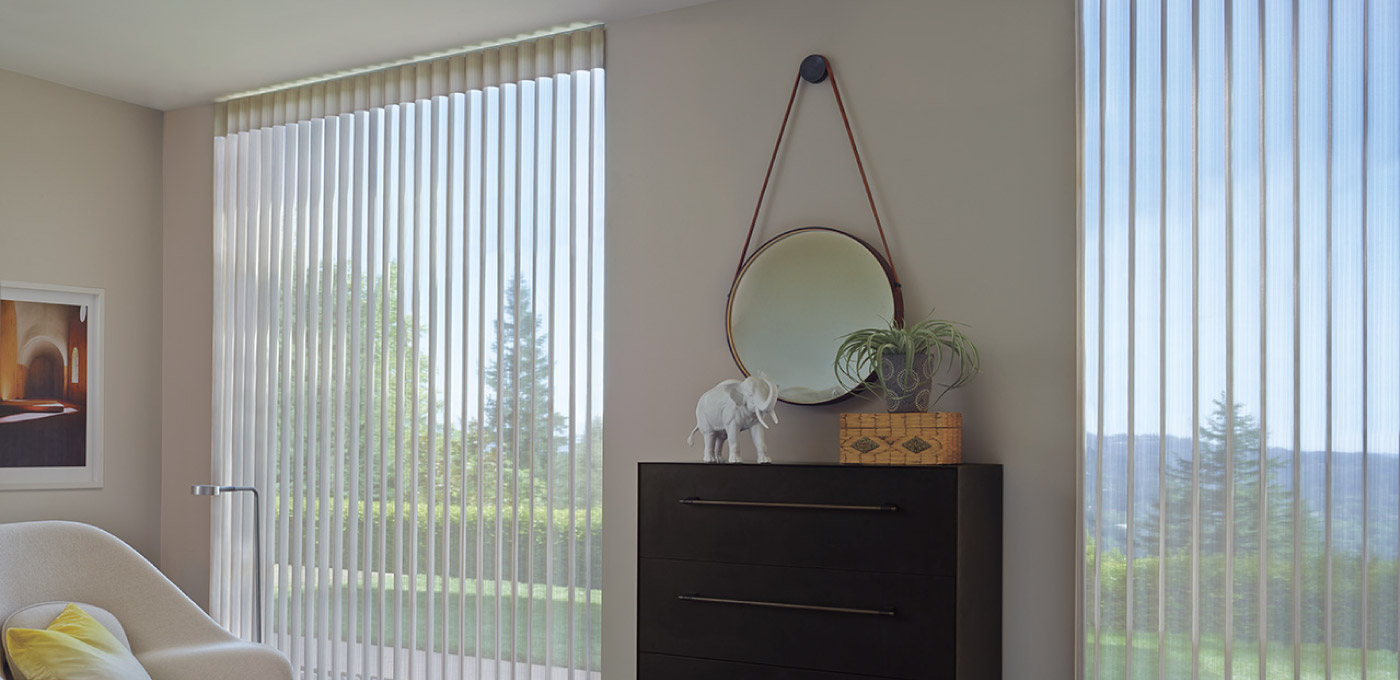 Combining the timeless beauty of a sheer curtain and the superior control of a blind, Luxaflex Luminette®Privacy Sheers offer an inspired, elegant alternative to the traditional curtain.Patented and exclusive to Luxaflex Window Fashions,
Luminette Privacy Sheers form part of the stunning SoftShades collection.
Innovative 2-in-1 Design
Featuring a softly curved vertical design for a striking interior statement, Luminette Privacy Sheers integrates the functionality
of two blinds into one stunning shade, offering a soft sheer fabric facing with vertical fabric vanes.
Wide Applications
Ideal for expansive windows and sliding doors, Luminette Privacy Shades can be neatly stacked to the side, providing an unobstructed view and instant access to sliding doors.
Filter Out Glare
Allow daylight to softly diffuse through the sheer when opened. The sheer fabric facing evenly spreads light throughout the room, minimising the need for artificial light
and providing daytime privacy.
Light & Privacy Control
Effortlessly rotate the vertical soft fabric vanes for variable light control, angling sunlight into the room. Close the fabric vanes completely to provide privacy and room darkening.
Softrak® System
The exclusive Softrak® Scissor Hardware System provides incredibly smooth, whisper-quiet and reliable operation whilst allowing the vertical fabric vanes to rotate 180 degrees for ultimate privacy
Combination Wand/Cord
Combining the tilt and traverse function into one control, the Combination Wand/Cord system makes opening, closing and rotating your fabric vanes quick, easy and child safe. Simply pull cord to draw the sheers across to provide an unobstructed view, or twist the wand to rotate fabric vanes.
Travelling Wand
Perfect for sliding glass doors, the Travelling Wand system is a simple solution for easy, one-handed access. Simply push or pull the wand to traverse shade, or twist the wand to rotate the fabric vanes. Eliminating the need for looped pull cords, the Traverse Wand system provides a safer home environment for children and pets
PowerView® Motorisation
With Luxaflex PowerView Motorisation, the world's most beautiful window fashions are now the most intelligent. This innovative wireless
operating system automatically controls and powers a wide range of Luxaflex internal and external window covering products creating the
perfect room ambiance morning, noon and night. Simply program PowerView to move your window shades to the
exact position you want and then control and schedule them using the intuitive PowerView App.